A Single 4 Lane Configuration - Easy to Order and Simple to Use.
Why a Single Configuration?
Majority of timers we've sold over 20 years have been 3 or 4 lane systems.

We don't recommend larger systems as they do not reduce race duration - but they do increase cost.
Timing Uses Invisible Infrared Light.
A shown above, each lane has 3, High Power IR LEDs. The IR Light is detected by sensors mounted in the center of each lane.
Using 3 High Power LEDs per Lane Allows:
Operation with Lane Spacing from 3.25 to 4.25 Inches

Large separation from timer to track, up to 8 inches. 6 inches is the standard mounting option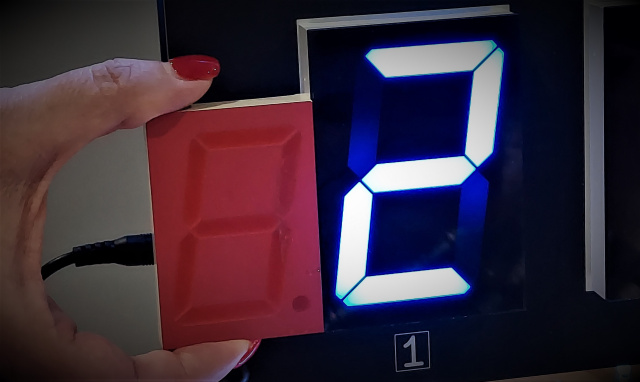 3 Inch Blue Display vs 2.25" Red Display
The TwinTurbo Lane Displays are Taller at 3 Inches than any other Timer on the Market. 33% Larger.
Our High Efficiency Blue LED displays are Super Bright, on Front and Back of the Timer and Visible from Any Angle, 360 degrees around the finish line.
TwinTurbo Status Bar - Illuminated by 21 RGB LEDs
Blue = Timer is Initializing
Yellow = Timer is Reset and Waiting for Start Switch to Open
Green = Race is in Progress
White = Race Finished, Waiting for Timer Reset
Flashing Red = No Sensors Found at Startup / Sensor Cable is Unplugged
*
TwinTurbo - Lightning Finish
LED Down Lights Flashes as Each Car Crosses Finish Line

When Last Car Crosses, Down Lights Turns on Solid White
TwinTurbo - Stop Sensor Cable Assembly
Sensors for each lane are color coded and labelled for Lanes 1-4

One RJ45 connector plugs into the Display Board

Sensors plug into 1/4" Hole Drilled in Center of Each Lane

For 3 Lane Tracks, leave the Lane 4 sensor uninstalled, and Stowed beneath the track. (TwinTurbo can be used on Tracks with 1 to 4 lanes)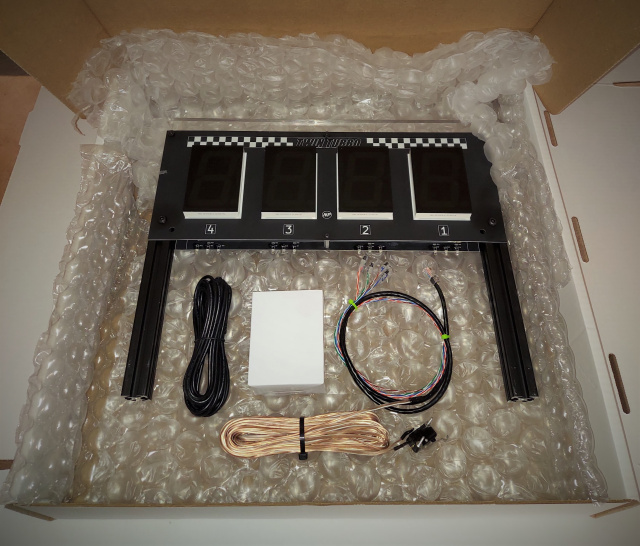 Unboxing the TwinTurbo Shipment
Each TwinTurbo shipment Includes: Timer, Mounting brackets, 15foot USB Cable, 12V Power Supply, Start Switch, and Stop Sensor Cable Assembly (4 Lanes).
Ships in a Heavy Duty, Tab Lock Box. This closes without tape, and is suitable for long term storage of the System.