Here's some other pinewood derby links you may want to check out:
Non-Commercial sites:
Speedway Motors' Pinewood Derby Car Resource Guide
a great list of resources shared with us by a Junior Girl Scout troop
Maximum Velocity! Pinewood Derby Car Building Tips
tools and tips, how to recover from boo-boos, a buyer's guide and a Q&A section

DerbyTalk
Derby Talk is a forum for Pinewood Derby, Awana Grand Prix, Kub Kar Rally, Shape N Race Derby, Space Derby, Raingutter Regatta, and other similar races where a child and an adult work together to create a race vehicle and a lot of fun and memories.


Commercial sites:
Mid-America Pinewood Derby Boy Scouts of America, Mid-America Council
Aaaand they're off! It's time for the Boy Scouts of America Mid-America Pinewood Derby Race! This year, the races will be run on a brand-new six-lane, 42-foot aluminum track with an electronic timer and starting gate! Membership in Cub Scouts or Boy Scouts of America is not required, and siblings and adults are encouraged to enter a car in the race too! Today our guests brought in their cars to show off to Mike and Mary!
PInewood Physics DVD
A great 2-hour DVD on how to make your car run fast using the principles of Physics. Also, a wonderful educational tool to make physics fun for kids! www.pinewoodphysics.com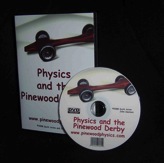 This 2-hour video features our Original DT8000 timer and will show you how to...

•

Use the principles of physics to build the

fastest car possible

, within the rules.

•

Set the weight and center of mass of your car to maximize speed.

•

Reduce the effects of friction.

•

Align your car's wheels to near perfection.

•

Maximize your child's involvement in car construction without compromising quality.

•

Build a simple test track in your garage.
Pinewood Derby Race and Car Supplies
Pinewood Derby Car Supersite
- Your one stop derby shop! You can build a winning pinewood derby car with our design plans, polished axles, lathed wheels plus full line of speed products and free guides, tips, Derby Racer's license, award certificates and more!
DerbyWorx
- High Performance Pinewood Derby Tools and Wheels
BestTrack
Best Track All Aluminum Tracks are strong, lightweight, easy to assemble and reasonably priced. Available in 2 to 8 lanes, and all of our tracks are expandable in width or length. A lifetime warranty and our stop section are standard on all of our tracks. More people buy BestTrack aluminum pinewood derby tracks than any other pinewood derby track made.