The TURBO pinewood derby timer is a totally new concept in pinewood derby timing systems. This is the only timer on the market that provides an over-track results display AND is expandable without requiring a full system replacement. You can start with a 1 lane system and upgrade it up to 8 lanes whenever you need to. You can also upgrade the system to be double-sided, add built-in USB support or add our exclusive DerbyTV interface.

TURBO is the result of more than 2 Years of engineering development. We considered everything in building this system: functionality, ease of installation, software support, ability to upgrade, results display, and perhaps most important COST. We built a full featured timer that is fully upgradeable and still lower in cost than our competition.
Originally, we called this product the Daytona. We decided to change the name to TURBO to reflect how powerful this display can be to your race. The TURBO and the Daytona are the exact same product.
Here's a link to see the TURBO timer in action on youtube.

The TURBO is Different from ALL Others in these Six ways:
Display

3 inch tall super-bright red LEDs over each lane

Shown above, our 3" display on the left and their 2.25" display on the right. Big Difference!

Configurable
You can configure the system to work on multiple tracks from 1 to 8 lanes. Just add additional Bridge and Lane Module components as required. Works on tracks that are 3.25", 3.5", 3.75" or 4" lane spacing.

Computer Interface

Includes RS-232 Serial port interface standard, not as an expensive option
USB option
Built-in USB interface (optional feature)
No Computer Solution
Times for all lanes available without using a computer interface.
TV Option

Hook-up your timer to a TV for all to see the results (called DerbyTV)
What Makes Up The TURBO?
The TURBO has 3 main parts: Timer Module, Bridge Module(s) and Lane Module(s). The following information details each part.
Timer Module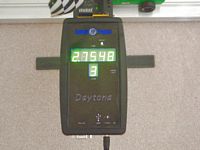 Displays Time for winning lane or all lanes, you can select!
User selectable to automatically cycle through all times or manually cycle through times using Reset press. Get all times without using a computer!
Lane display indicates which time lane applies to
Standard Computer Interface via RS-232 Serial interface, supported by Grand Prix Race Manager, DerbyMaster, RaceVIEW and Racetender or with free terminal port software such as Hyperterminal.
Optional Computer Interface via built-in USB port(inside the TURBO, not an adapter)
Optional support for DerbyTV, user upgradeable at any time
Provides power to IR light sources, installed in each lane, facing up towards Bridge Module.
Bridge Module
Each Bridge supports 2 lanes.
Provides connections for up to 4 Lane Modules, 2 facing each side. Add additional Lane Modules to make the display double sided.
Has IR Phototransistor for each lane. These receive the signals emitted from the IR emitters installed in the track.
Brackets provided with Bridge Module allow the bridge to stand 5" above the track. Brackets have holes in them so they can be mounted onto a piece of plywood.
Lane Module
3 inch Order of Finish Display centered over each lane.
Super bright red 7-segment LED
Use one for single sided viewing or two for double-sided
Click here to order the TURBO Timer.