Our third type of timer is the Turbo Lite - a lower priced alternative to the full TURBO timing system that has the same timing capabilities without the over-track display. The finish order and all times are available from the Timer Module or connect the unit to a PC to automate your race. Use your PC with an LCD projector to really wow the audience. The timer comes standard with a serial port interface and supports our optional built-in USB interface. This timer uses our standard start switch and 1/4" stop sensors. The only thing needed to complete the system is a regular incandescent light source at the finish line (one 60W lamp for every 2-3 lanes). You do not have to provide the measurements of your track for this timer. Click here to order the Turbo Lite.
Turbo Lite, uses 1/4" holes. DT8000 customers who are switching to Turbo Lite would either need to devise a way to fit smaller sensors into their holes, drill another set of holes, or we could build their cables with 3/8" tubing. Wouldn't be a problem to do so, just need to know ahead of time before we build the product.
Finally, there are the legacy products. These were our Original Timers: The DT8000 (1 to 8 lanes), DT2000 (1 or 2 lanes) and the DT1000 (1 lane). These timers were phased out at the end of 2009 and did not have the bridge display at the finish line, but were less expensive and offered the same accurate timing and finish order information.
Note: All of our timers are upgradedable to add more lanes in the future. Turbo and Turbo Lite expand up to 8 lanes, DerbyStick expands up to 4 lanes. Upgrading is easy and cost effective and avoids the expense or buying an entirely new system if your track changes size or design in the future.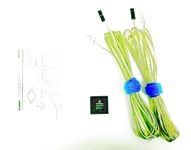 How do I know which timer to buy or upgrade to? You should look at three key points: number of lanes you need now, number of lanes you may need in the future, the cost of the timer/finish line you are considering, and the type of display you want to have.

A key feature of our products is that you are not stuck with your original choice in lane size if you choose to upgrade to a bigger track later on.

The following chart may be helpful to you:
| | | | | |
| --- | --- | --- | --- | --- |
| Number of Lanes | Lane Spacing | Type of Display | Cost | Timer |
| 1 to 8 | Center to Center spacings of 3.25, 3.5, 3.75, or 4.0 Inch | 3 Inch Number per lane plus Elapsed Time on the Timer Module. Computer Interface | $$-$$$ | TURBO |
| 1 to 8 | Any | Finish Order and Elapsed Time on the Timer Module. Computer Interface. | $$ | |
| 1 to 4 | Any | Times and Finish order from Computer Interface | $ | DerbyStick |
What about packages that include optional items like pinewood derby computer software? We have these too!


Complete system packages are available in many different flavors. Click here for more information.

What makes your product and your company different from the others? We're so glad you asked!! Check here to find out!
Click here to order the TURBO timer. Click here to order the Turbo Lite.
Click here to order extras like: Upgrade Kits, Pinewood Physics DVD, Software, Computer cables, and other Options.